The Colonial Jewelers Endless Bracelet is the ultimate experience! The Endless Bracelet is a precious metal chain of your choosing that is welded directly to your wrist by our Master Jeweler. It's permanent jewelry and meant to be enjoyed for as long as you desire. Make an appointment with your best friends, bridesmaids and everyone in between!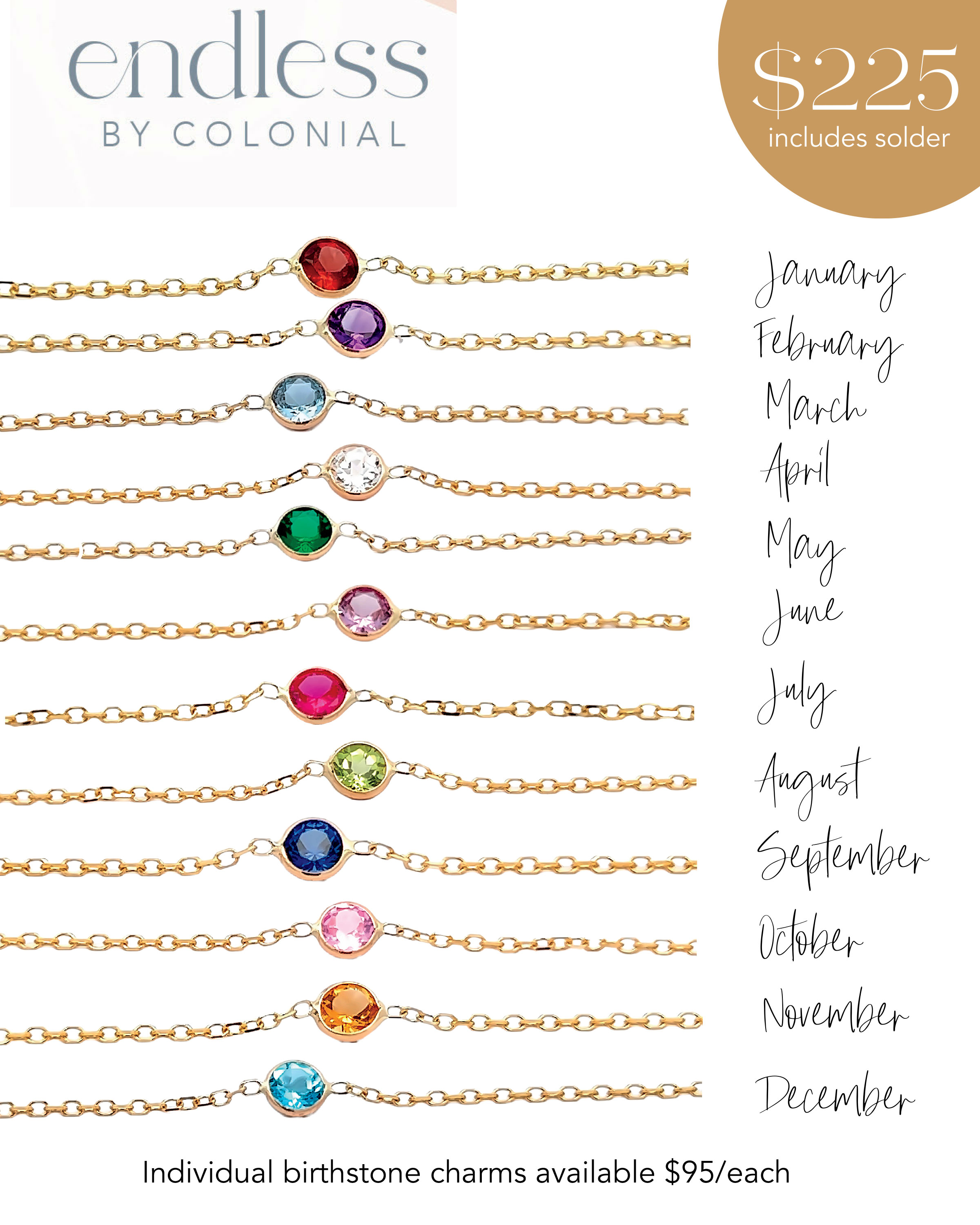 SOME THINGS TO NOTE:

If you're coming with a group, make sure an appointment is made for each individual person. One appointment accommodates one customer.



We cannot guarantee welding without an appointment. Make an appointment here.


While attaching the bracelet takes just a few minutes, please expect a wait. Due to the popularity we cannot guarantee that we can accommodate you or anyone in your party if you do not arrive on time. We can only hold your spot if you are present.




Minimum welding age is 10. Anyone under 14 must be accompanied by an adult.




Prices do not include tax. Payments taken on the spot.




All sales are final.
Frequently Asked Questions


What is a Endless Bracelet?
The Endless Bracelet by Colonial Jewelers is a custom fitted bracelet that we weld directly onto you. The Endless Bracelet is custom fit to your wrist, sans clasp, and should require no maintenance. Once it's welded its there for you to enjoy! Although we'd like to think everyone will keep it forever, if you decide later to remove the bracelet, they can simply be removed with scissors. We do not guarantee that your bracelet will stay on forever. If your endless bracelet falls off for any reason it can be re-welded for a fee of $25.
Where and When can I get an Endless Bracelet?
Our In-House Master Jeweler will apply each and every Endless Bracelet in our Showroom located at 1 South Market Street, Frederick MD 21701. You can book your appointment here.
Do I Need to Book An Appointment?
Yes, our Master Jeweler will apply each and every Endless Bracelet so to accommodate everyone in a timely manner we ask that you make an appointment. If you're coming with a group, be sure to book an appointment for each person.
Does it Hurt?
Not at all! Despite the small flash from the welder, there is absolutely no pain. All fun.
Can I purchase the Endless Bracelet in Advance?
No, you'll select your chain at the beginning of your appointment.
Can I purchase the Endless Bracelet as an anklet or necklace?
What if I need to remove the Endless Bracelet? Can I get it welded back on later?
Yes, if you need to remove the Endless Bracelet for any reason, we recommend carefully cutting it with scissors. We suggest cutting the chain at the small ring that connects the two ends of the chain, this will help maintain the integrity of the chain. If you'd like to get it welded back on, just make an appointment and for $25 we attach it back to your wrist.
Can I buy a Endless Bracelet for Someone as a Gift?
Absolutely! The experience makes a great gift. You can purchase a gift card here.